Sno-King Stamp Club

Serving Stamp Collectors in Snohomish and North King counties, Washington
Welcome
Welcome to the Sno-King Stamp Club. We are an active group for stamp collectors in Snohomish and North King counties, Washington. Founded in 1960, we have regular meetings twice each month in Everett and Edmonds. We have over 40 members, with collecting interests including every branch of philately from US to Canada to worldwide, covers to topicals, and everything in between. We have an annual show each January or February. PLEASE NOTE THIS BREAKING NEWS - THE SHOW DATE HAD TO BE CHANGED DUE TO TOO MANY CONFLICTS IT IS NOW SET FOR SUNDAY MARCH 6th!!! MARK IT ON YOUR CALENDAR :)
Club History
The Sno-King Stamp Club was founded in 1960 by George Jackson of Mukilteo. The Everett area had been without a stamp club since the Everett Stamp Club folded in the late 1940s. Four collectors attended the first meeting in a private home in September 1960. Membership doubled by November 1960, and by 1961 membership reached double digits.

Meeting first in Edmonds, the club expanded to Everett in 1961. The club adopted its current name in 1961, targeting collectors in North King and Snohomish counties. At first the club met in private homes and churches. Later, it moved its meetings to public libraries in Everett and Edmonds.

The Sno-King Stamp Club has been a member of the Northwest Federation of Stamp Clubs since 1962, and is also a member of the American Philatelic Society.
Visitors are always welcome. Check the Meetings page for details of upcoming meetings and programs or contact one of our officers for more information.
Don't forget to bookmark this page and return often, as we will update information regularly.
(1847) U.S. Scott #1 and U.S. Scott #2:
(1840) Great Britain #1 - the Penny Black: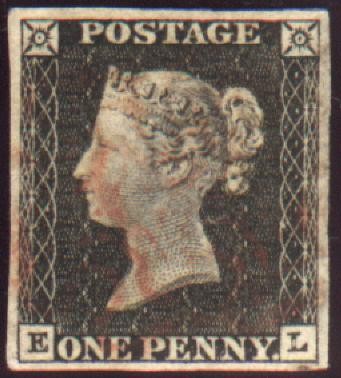 (1851) Canada #1 - the three penny beaver: